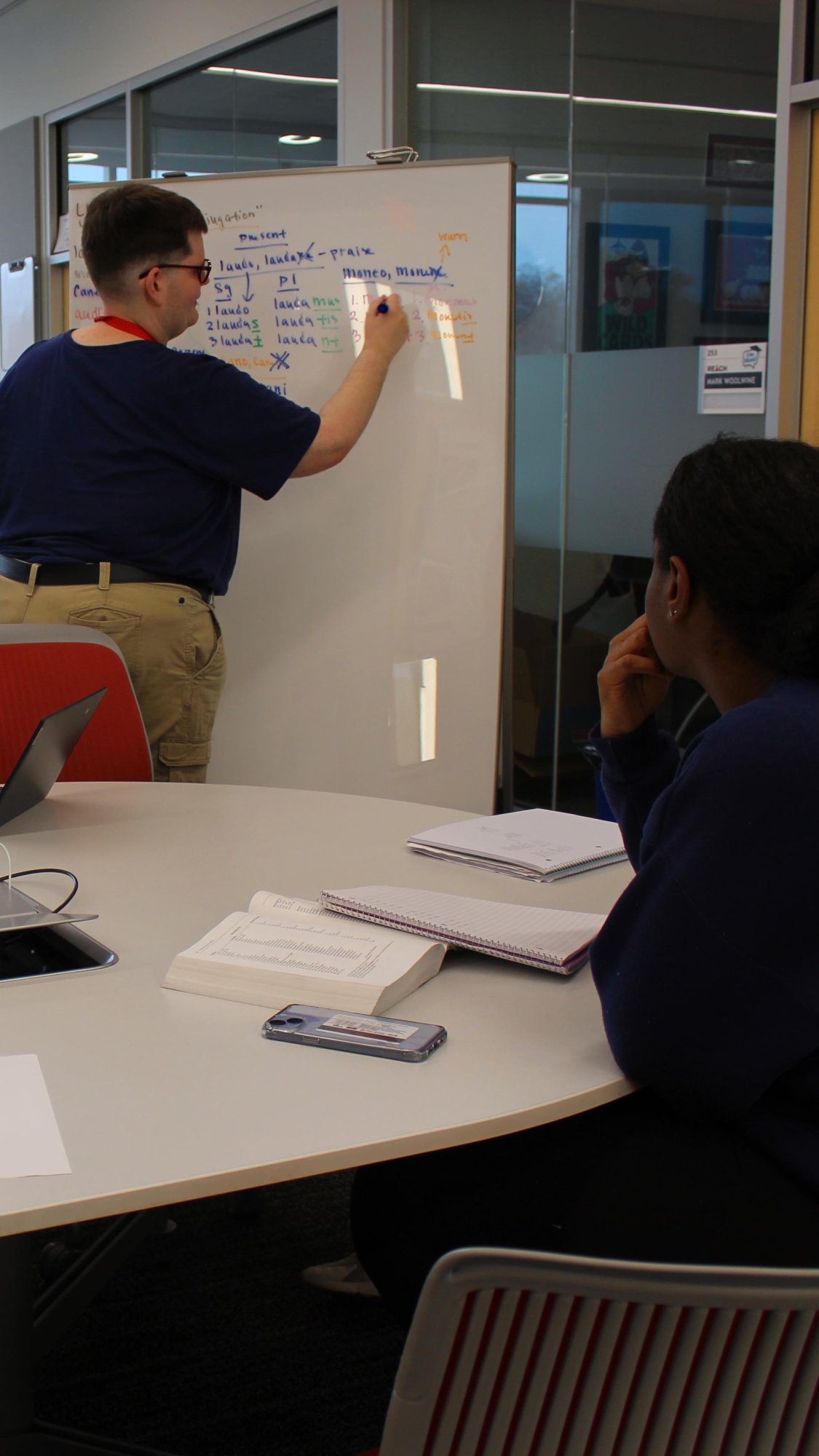 Resources for Academic Achievement is UofL's centralized academic support unit and offers free services and programs designed to help undergraduate students succeed.
Why use REACH?
Students who use REACH tutoring have a higher GPA on average than those who don't.
Learn about academic expectations, make better decisions, and get help adjusting to the academic challenges of college life.
Improve your study skills and time management to become a better, more efficient student.
Learn money-managment skills and make more informed financial decisions.
Join your peers! On average, 75% of incoming students utilize REACH services.
REACH offers tutoring for 100-, 200-, and some 300-level courses in a variety of formats:
Weekly Review or Small Group
Weekly review sessions (PAL - Peer-Assisted Learning) are open to all students in a particular course section.
Small group tutoring occurs in groups of 2 - 5 students that meet once per week
Drop-in or Appointment-Based
Drop-in tutoring allows the student to log on, stop by anytime we're open, and come back as often as they want.
Appointment-based sessions meet once per week at a specific day and time.
In-person or Online
In addition to in-person tutoring, REACH offers online versions of many of our tutoring sessions using Microsoft Teams.
REACH Courses
REACH teaches college readiness courses in mathematics and reading. To learn more see the following:
GEN 103/104
GEN 103 and GEN 104 review Algebra content and math study strategies with curriculum specifically designed for entry-level University of Louisville mathematics courses for STEM and non-STEM majors. Students are required to take 103 or 104 based on their ACT/SAT/or Accuplacer Math Scores. Non-STEM majors (GEN 103) require MATH 105 or another QR course, and STEM majors (GEN 104) require MATH 111 or a MATH course other than MATH 105.
Learn more about GEN 103/104 button
GEN 105
GEN105 provides an intervention for college reading for students admitted with low ACT READ, SAT ERWS/Read, or Accuplacer Reading scores. Students who enroll in this course will receive 2 hours each week of supplemented instruction in college reading, critical thinking, and study strategies. Students receive 2 hour of college credit (elective credit only) for GEN 105.
Learn more about GEN 105 button
Accuplacer Placement Testing for GEN 103/104 & 105
GEN103/104
Students whose scores on the ACCUPLACER Next Generation ARTH exam are between 200-262 will be required to register for GEN 103 and those who score between 263-300 will be required to register for GEN 104.
GEN 105
Students whose scores on the ACCUPLACER Next Generation Reading exam are less than 250 will be required to register for GEN 105, Special Topics in Supplemented College Reading during their first academic year.
Cost
Examity- Students can take the exam at any time- $25 plus $5 RegisterBlast Fee
In-Person- In-person, Monday – Thursday 7 am – 5 pm ET by appointment - $14 plus $5 RegisterBlast Fee
Zoom- (For Non-Local Students ONLY)- Via Zoom, Monday - Friday between 7 am - 5 pm ET by appointment- $25 plus $5 RegisterBlast Fee
Students on free and reduced lunch have their test fees waived for the In-person and ZOOM sessions.
Summer Bridge programs:
Math Xcelerator
Math Xcelerator is a three-week summer bridge program designed to help students learn math study strategies and review the math skills/concepts needed to be successful during their first year at UofL. Program participants will explore algebra content at their own pace with the assistance of interactive courseware, a student study guide, a facilitator, and knowledgeable math tutors. Lessons will be taught using guided instruction and mastery learning with minimal lecturing. Successful completion of the program will reduce the amount of intervention coursework required in mathematics.
Learn more about Math Xcelerator button
Brown Forman Engineering Academy
This is a two-week, live on program designed to prepare accepted incoming engineering freshmen both academically and personally. This enrichment program is designed to assist students with their transition into college through academic prep, peer support, faculty relationship building, and student success programming. REACH provides the math instruction for the BFEA program.
Learn more about BFEA Button
Speed Calculus Preview
This is four week intensive program designed specifically to help incoming Speed School freshmen who are enrolled in ENGR 100, 101, or 181 make the transition to engineering calculus. A limited number of scholarships are available to Speed School student for participation in the program.
Learn more about Speed Calc Preview button
Academic Coaching
REACH's Academic Coaches work with students to identify academic goals, develop individual plans for academic success, and build key academic skills that foster self-confidence and independence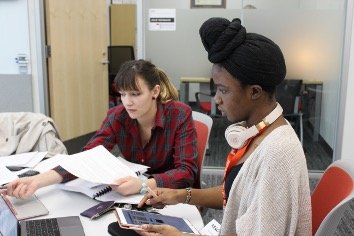 Workshops
SmartCards Financial Success
REACH and Commonwealth Credit Union have partnered to provide the UofL community interactive, engaging, and personalized online content to help you reach your financial goals.
Hackademic Series
The Hackademic Series are self-guided online workshops that help students learn strategies for time-management, discipline, textbook reading, notetaking, test-taking, and more.
Graduate Exam Preparation
Sponsored by the Princeton Review, these workshops are available for students preparing for the GRE, MCAT, LSAT, GMAT, OAT, and DAT.
REACH Main Offices
202 Belknap Academic Building
502.852.6706
Other Locations
Ekstrom Library, First Floor
Tutoring for Business course and general computer assistance
JB Speed Building, Room 107
Tutoring for Engineering course
Follow Us On Social Media